Before the nineteenth century, bloodsports such as bull baiting, bear baiting and cock fighting were common. Bulls brought to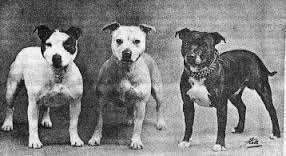 market were set upon by dogs as a way of tenderizing the meat and providing entertainment for the spectators; and dog fights with bears, bulls and other animals were often organized as entertainment for both royalty and commoners. Early Bull and Terriers were not bred for the handsome visual specimen of today, rather they were bred for the characteristic known as gameness. The pitting of dogs against bear or bull tested the gameness, strength and skill of the dog. These early "proto-staffords" provided the ancestral foundation stock for the Staffordshire Bull Terrier, the Bull Terrier, the American Pit Bull Terrier and American Staffordshire Terrier. This common ancestor was known as the "Bull and Terrier".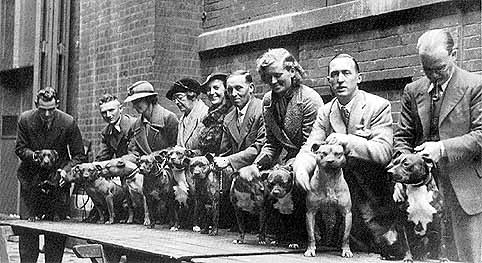 These bloodsports were officially eliminated in 1835 as Britain began to introduce animal welfare laws. Since dogfights were cheaper to organize and far easier to conceal from the law than bull or bear baits, bloodsport proponents turned to pitting their dogs against each other instead. Dog fighting was used as both a bloodsport (often involving gambling) and a way to continue to test the quality of their stock. For decades afterwards, dog fighting clandestinely took place in pockets of working-class Britain and America. Dogs were released into a pit, and the last dog still fighting (or occasionally, the last dog surviving) was recognized as the winner.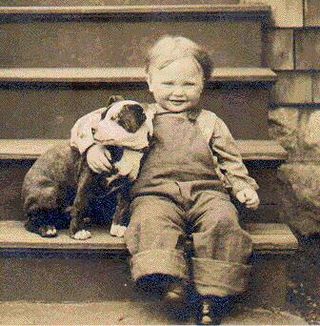 The quality of pluckiness or "gameness" was still highly prized, and dogs that gave up during a fight were reviled as "curs". As an important aside, fighting dogs were often handled in the pit during fights, by both their owners and the judge, so were bred to be as
trustworthy with humans as they were aggressive towards other dogs.
The breed attained UK Kennel Club recognition on 25 May 1935. Staffordshires were imported into the US during this time.

Staffords in Australia
I
n 1951 Mr and Mrs W Stevens emigrated from England, bringing with them a pair of Staffordshire Bull Terriers named "TinkersChina" and "Bills Hope". Both were "J" line. Intending to settle in Queensland, they sailed first into Melbourne then Sydney and contacted the Controls and registered the pair as the first of the breed to be recorded. In Queensland their prefix "Westaff" was the first to be recorded. A litter from the pair was born in quarantine. Early fanciers of prominence were Mr J Johnson (Raijoh), Mr R Orpin from Bundaberg (Nipro) who imported a bitch named Loggerheads Jeannie from NZ in the late fifties,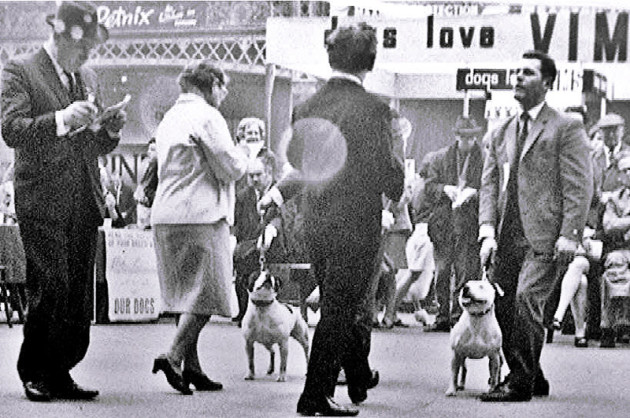 and Dr I Lamb (Rettendon) who bought her pet bitch, Brindle Babs of Bandits, with her when emigrating in 1958. Another fancier Mrs A Knight (Kumbari) who made up the first Australian champion of the breed called Ch Westaff Red Devil (Tinkers China x Bills Hope). In 1961 Rettendon imported another bitch from NZ named Redheads Gigi. In 1966 the breed was given a much needed boost by the arrival of a pet dog owned by Mr R Pavey named Constones Cadet Again. In 1967 Dr L Davidson (Olmoday) imported Linksbury Modesty Blaize (UK) and Lydes Jaguar of Linksbury (UK) as puppies. In 1969 Olmoday imported another bitch, Linksbury Isola of Olmoday (UK). The combination of these dogs improved the breed enormously in Queensland and filtered interstate during the early '70s where they also made their mark. Other imports during the early '70's included Loggerheads Jickory (NZ), Ramlyn Tomahawk of Linksbury (UK) and Loggerheads Gewalt (NZ) was acquired by Olmoday between 1970 and 1974. During the later '70s fanciers bought stock from interstate, these included Crossguns Justice by Mrs M Murry (Boyendale), Crossguns Deputy Winks for the Mackay area by R and D Jenks (Pitstaff), and for the Cairns area Crossguns Newman Noggs by R and R Bowen (Safbown).
The '80s have seen many imports, 1981 Red Ruby (UK), owned by M Douglas (Headstart), 1985 Pitstaff imported Eastaff Bruiser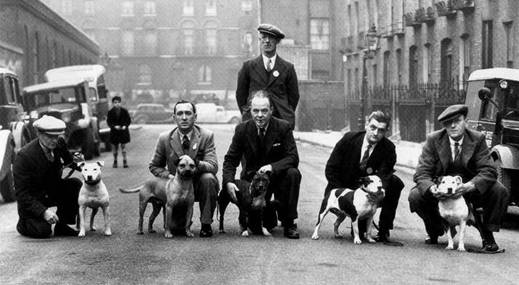 (UK), both these dogs are making their mark throughout Australia. In 1986 T Sinn introduced Crossguns Mr Cobbs and Havildar of Tarlair (NZ) and a bitch, Aanjuli of Tarlair (NZ). In 1988 R and D Jenks (Pitstaff) brought in Eastaff Likey Lad. These can only contribute to the advancement of our chosen breed. The popularity of the Staffordshire has reached huge proportions resulting in large entries at most shows where they usually have the highest entry in the terrier group. They have come a long way from their humble beginnings, and are now a force to be reckoned with in competition with other breeds.
Courtesy Queensland Dog World September 1988